World Science Center is an installation located in New Sydney, 281.5m above ground.
In 2310 a Conference on Alien Interchange (als "Symposium on Alien Contact") was made by the Scientific Advisory Council of the United Earth Ministries in order to decide what answer to give to the Cyrollan delegation, expected to return in some years. Elliot Sinclair was present there and posed his skepticism and objections about joining the alien Symbiotry, but Enrique Castillo's following speech was instrumental to a positive decision.
Tamara Walsh was employed as receptionist between 2/1/2311 and 7/10/2313.
Structure
Edit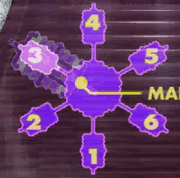 The WSC is a star-shaped complex with six wings numbered clockwise around a central dome structure. The central dome includes the Main Auditorium.
Residents
Edit
Residents of the Research Wing 3 included: M. Hernandez, C. Washington, M. Sullivan, Elliot Sinclair, J. Nakamura and Glenner.
Behind the scenes
Edit
The original Journeyman Project gives the coordinates of the facility as latitude 33° 41′ 38″ and longitude 151° 81′ 47″ E. Which fall somewhere in SE Australia. However the longitude minutes number (81′) is impossible, so the above link assumes that the number 151° 81′ corresponds to 152° 21′.
Ad blocker interference detected!
Wikia is a free-to-use site that makes money from advertising. We have a modified experience for viewers using ad blockers

Wikia is not accessible if you've made further modifications. Remove the custom ad blocker rule(s) and the page will load as expected.