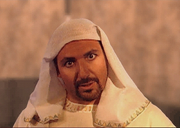 Amun was an
Egyptian
sailor who loved the sea, and friend of
Achmed
. During a trading voyage around 1270 BC his ship was captured by
Atlanteans
and he was captured as a second-class citizen. He spent the next decade working as a Windmill keeper.
When Achmed was also captured, Padros managed to unite the captives and organize an escape attempt during the next Kalos Kalyre. He build an underground passage under the mill which was connected to the shaft where the Gaealith was kept. He was instructed to say the code word "looks like nasty weather" and expect the reply "Yes, it looks like it's going to be a long winter" to recognise other captives who were part of the plan.
Background
Edit
Amun is credited as "Windmill Keeper". His name never appears on-screen. It's equally possible that his name is Amon.
Ad blocker interference detected!
Wikia is a free-to-use site that makes money from advertising. We have a modified experience for viewers using ad blockers

Wikia is not accessible if you've made further modifications. Remove the custom ad blocker rule(s) and the page will load as expected.