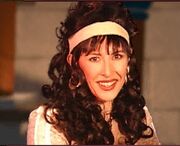 Tira was a devout woman from Atlantis and sister to Telos. She worked as an olive oil vendor next to her brother's workshop.
She is played by Dominique Debroux.
Tira's name is not seen on-screen and could be also Teera or Tila.
Ad blocker interference detected!
Wikia is a free-to-use site that makes money from advertising. We have a modified experience for viewers using ad blockers

Wikia is not accessible if you've made further modifications. Remove the custom ad blocker rule(s) and the page will load as expected.