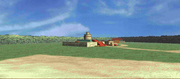 El Caracol is a temple in Chichén Itzá. Its name means "snail" in Spanish. It is an astronomical observatory with holes indicating the position of celestial objects during important dates.
Further beyond the Caracol, there was the Casa de las Monjas.
Ad blocker interference detected!
Wikia is a free-to-use site that makes money from advertising. We have a modified experience for viewers using ad blockers

Wikia is not accessible if you've made further modifications. Remove the custom ad blocker rule(s) and the page will load as expected.